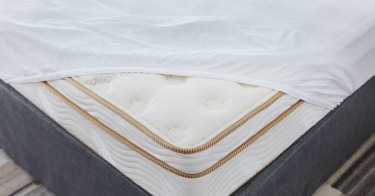 Waterproof Mattress Protector
Breathable, undetectable protection from spills, dirt, stains, and humidity
Get your best sleep ever knowing your mattress is wrapped in the highest quality, breathable protection of our mattress protector.
Natural cotton knit wicks away moisture
Non-rubbery waterproof barrier allows airflow while effectively blocking liquids
Fits mattresses up to 16" high
High-quality silicone elastic band keeps it in place
Machine wash cold, gentle cycle, no bleach, tumble dry low
Breathable protection
Ultra-thin polyurethane moisture barrier protects your mattress from liquid spills for hours, while micro-perforations allow air to flow through.
Secure fit
Cotton lining, deep pockets, and a silicone elastic band all the way around ensure that your mattress protector stays put.
You may also like...
Rest easy knowing your mattress is protected from spills with this high-quality, breathable cover.
Enjoy cooler, more comfortable sleep wrapped in our supremely breathable, naturally hypoallergenic percale cotton sheets.
slide page 1 of 8
Ethically sourced & meticulously crafted protection
Every waterproof mattress protector is handcrafted with the highest standards of economic, social, and environmental responsibility.
For added softness and breathable protection from general wear and tear, we recommend our 100% cotton mattress pad.
Frequently asked questions
Bedding products returned within 45 days of the delivery date will get a full refund to the original form of payment. There are no restocking or penalty fees for used products, but we do ask that you wash your used bedding before returning.

To make a bedding return, simply call 1-877-672-2882 or email info@saatvamattress.com. If you received our bedding as a gift, please call us for help with your return.

You should consider protecting your mattress with a mattress protector if you:

are concerned about preventing bed bugs
have pets or children that are likely to cause a mess
live in a humid region and want to prevent excess moisture that could lead to mold

Yes. A mattress protector is meant to be a protective barrier between you and the mattress, but it's not designed to be slept on without bed sheets.

A mattress pad, sometimes called a mattress cover, is a thin piece of quilted material that fits over the surface of your mattress, much like a fitted sheet. It offers an extra layer of light cushioning and protection against stains and general wear and tear. A mattress protector is a thin sheet of fabric that's designed to safeguard your mattress from bacteria, fungi, bed bugs, and other unwanted contaminants. Mattress protectors can be waterproof, quilted, natural, or synthetic, and are typically washable.

With regular use and washings, you should consider replacing your mattress protector every 5 years or so.

Mattress toppers are more substantial than mattress pads and protectors, typically around 1" to 4" in thickness. Rather than protect your mattress, they're designed purely to add an extra layer of comfort and support to new or older mattresses.

Yes! Since your trusty mattress protector collects all the dirt, dust, and skin cells that would otherwise end up in your mattress, you should make sure to wash it regularly, every month or two - more often if you have pets or allergies.

If you pick a mattress protector that's made with breathable materials like cotton, polyurethane, or a blend of both, it shouldn't trap heat like less breathable man-made materials out there like vinyl or polyester.
Don't just take our word for it
Saatva has earned an A+ rating from the Better Business Bureau and 96% of Saatva customers are satisfied with their purchase**.See for yourself why we have the highest customer review ratings in the mattress industry.
*From a recent Saatva customer satisfaction survey, which we conduct on a regular basis to ensure service, product, and overall quality standards.
**Based off Saatva return rates.