It can be difficult to find the perfect bed frame for your room (or your child's). But storage beds are a great option, especially for smaller bedrooms.
Bookcase bed frames and bookcase storage beds are one option to consider when you're shopping for new bedroom furniture. They offer quite a few benefits, and they're easy to style within a bedroom of any size.
Let's take a look at the ins and outs of bookcase storage beds—and how you may benefit from having one.
What is a bookcase bed?
A bookcase bed is pretty much exactly what it sounds like—a storage bed with shelving units for books or enclosed storage for whatever needs to be stored. They're often platform beds, though you can find bookcase beds that use box springs as well.
Bookcase beds come in a variety of styles. You can find them with storage space at either the headboard or footboard. You can also find them with under-bed storage.
Twin bookcase beds are great for kids' bedrooms or teenagers' bedrooms and can help them organize their things. You can also find king, queen, and full-size beds with bookcase storage for larger spaces.
Top benefits of having a bookcase bed frame
Bookcase bed frames are a great piece of furniture to add to your home. They come in a variety of styles and are easily customizable to your interior design. There are a number of benefits to using a bookcase bed frame in your bedroom, including:
Additional storage space: Of course, the biggest benefit of bookcase beds is the additional storage space they give you. If you live in a small space and need extra storage, a bookcase bed will allow you to store your books and other personal items without them getting in the way.
Promote healthy sleeping habits: Having a bookcase bed frame allows you to have easy access to a full library of books at night to help you keep up with your healthy sleeping habits. (Learn about how reading before bed may be able to help you sleep better.)
Personalize your space: A bookcase bed is a great way to personalize your space. With the open storage feature, you can display tons of personal items, like framed photos, your favorite books, and other knick-knacks, without seeming cluttered.
Easy to DIY: There are lots of DIY layouts online outlining how you can build your own bookcase bed using solid wood cubbies and a set of slats to hold up the mattress. If you don't want to go the DIY route, you can purchase a readymade bookcase storage bed.
There are a few different styles of bookcase bed frames on the market. For children, you can purchase trundle beds, daybeds, or bunk beds with bookshelves attached.
You can also find panel beds and other, larger platform storage beds for adults. That said, there are many ways you can style your bookshelf bed within your living space.
Styling tips for bookshelf beds
One of the huge benefits of getting a bookshelf bed is that it offers a variety of ways you can style it. Since they come in a variety of styles, colors, materials, and sizes, bookshelf beds are easy to personalize.
Here are our top five styling tips for bookshelf beds to help you customize your bedroom to be comfortable and cozy:
1. Personalize with framed photos
The easiest way to make your bedroom feel more cozy and comfortable is to personalize it with photos and art you love. The open storage unit on a bookshelf bed allows you to have framed photos, books, plants, and other knick-knacks on display to warm up the space.
This is also a great way to add some color to your bedroom. Instead of just a solid-colored headboard, you can decorate your bookshelf with pieces that go with your design scheme.
2. Select your color scheme carefully
Bookcase bed frames are commonly made out of solid wood, though you may be able to find some upholstery or metal frame options. This means you'll likely have to match the wood grain to the rest of your bedroom decor.
Whether you choose a dark espresso color or pure white, you'll want to make sure the rest of your decor matches. Everything from your linens, side rails (if you have them), and shelf decorations should play well together.
3. Decide on a bookcase headboard or footboard
Your first decision when shopping for a bookcase bed is where you want the shelving unit to be located. Most options will feature a bookcase headboard or footboard, though you can also find daybeds that have a bookcase to the side.
This will be important when configuring the layout of your bedroom. As you consider this, check out our feng shui tips to help you with your bedroom layout.
4. Use the bookcase as a partition
Bookcase beds are a great way to add storage to a small bedroom space. Bookcases also can act as a partition in your bedroom to help separate different parts of the room.
This could be especially helpful if you have a bedroom office or studio apartment. Using your bookcase as a partition will allow you both to save space and create a separate sleeping space for yourself.
5. Get bookcase stairs for your loft bed or bunk bed
If you want to get creative with your storage drawers, you can add bookcase stairs to your loft bed or bunk bed. Instead of storing books directly in the headboard or footboard, you can open storage for the stairs to the top bunk.
This is a popular styling option for kids' bedrooms because both loft beds and bunk beds tend to be on the smaller side. This trick is a great space saver because you don't need an external headboard or footboard to create additional storage space on the bed.
What type of mattress is best for a bookcase bed?
Most bookcase beds and storage beds are platform beds that use slats instead of a box spring. This is important to note when you're selecting a mattress for your new bed frame. These mattresses pair well with a platform bed frame:
Memory foam mattresses
Latex mattresses
Hybrid mattresses
These mattresses tend to be on the softer side, which is ideal for a platform bed frame because they offer more support from the bottom.
An
innerspring mattress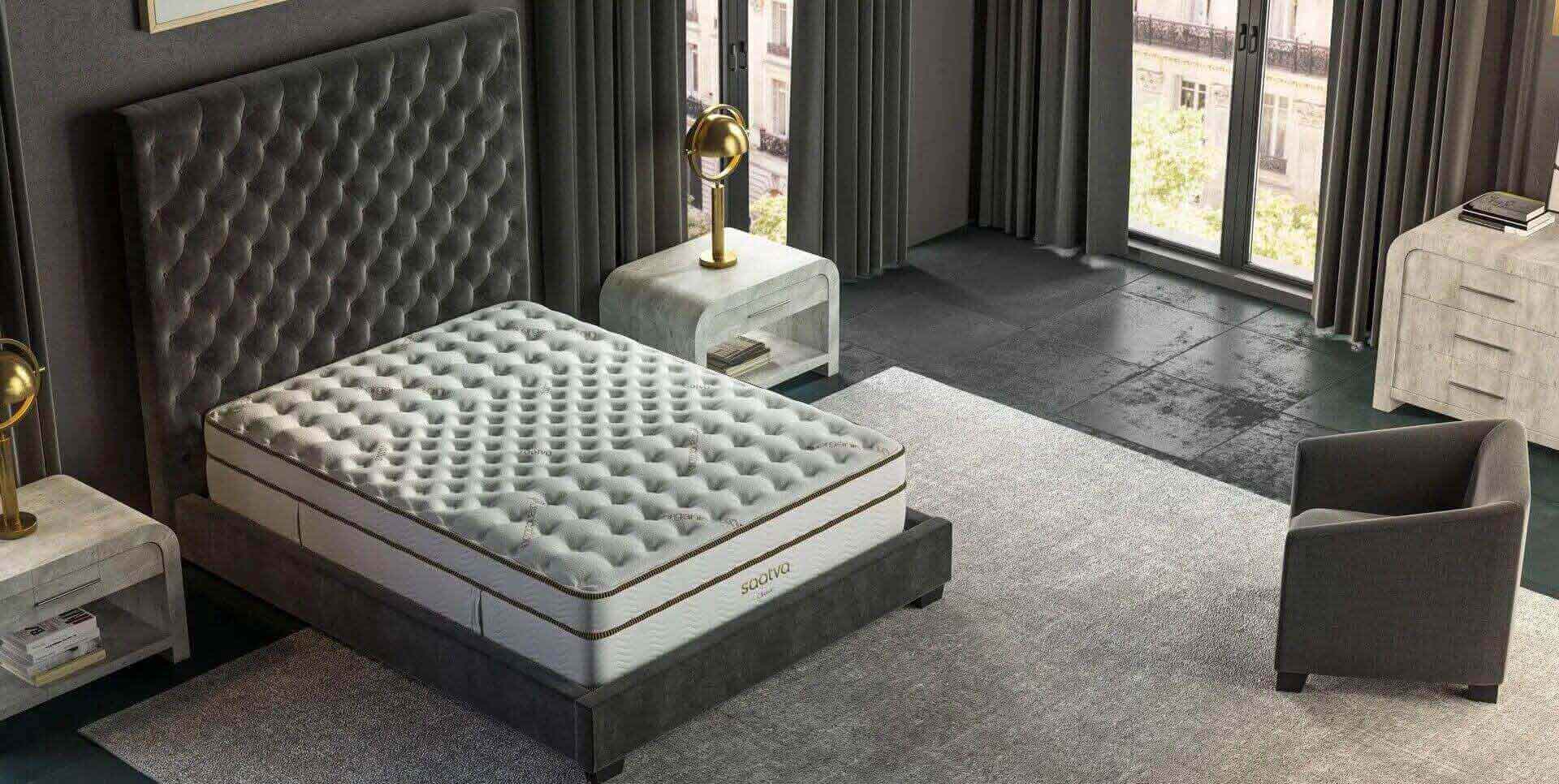 Saatva Classic
America's best-selling online luxury innerspring

may be too firm and uncomfortable for a platform bed. But if you have a bookcase bed with a box spring, you will benefit the most from using an innerspring mattress. A box spring offers the right amount of support for an innerspring bed.
Choose the best mattress for your bed frame at Saatva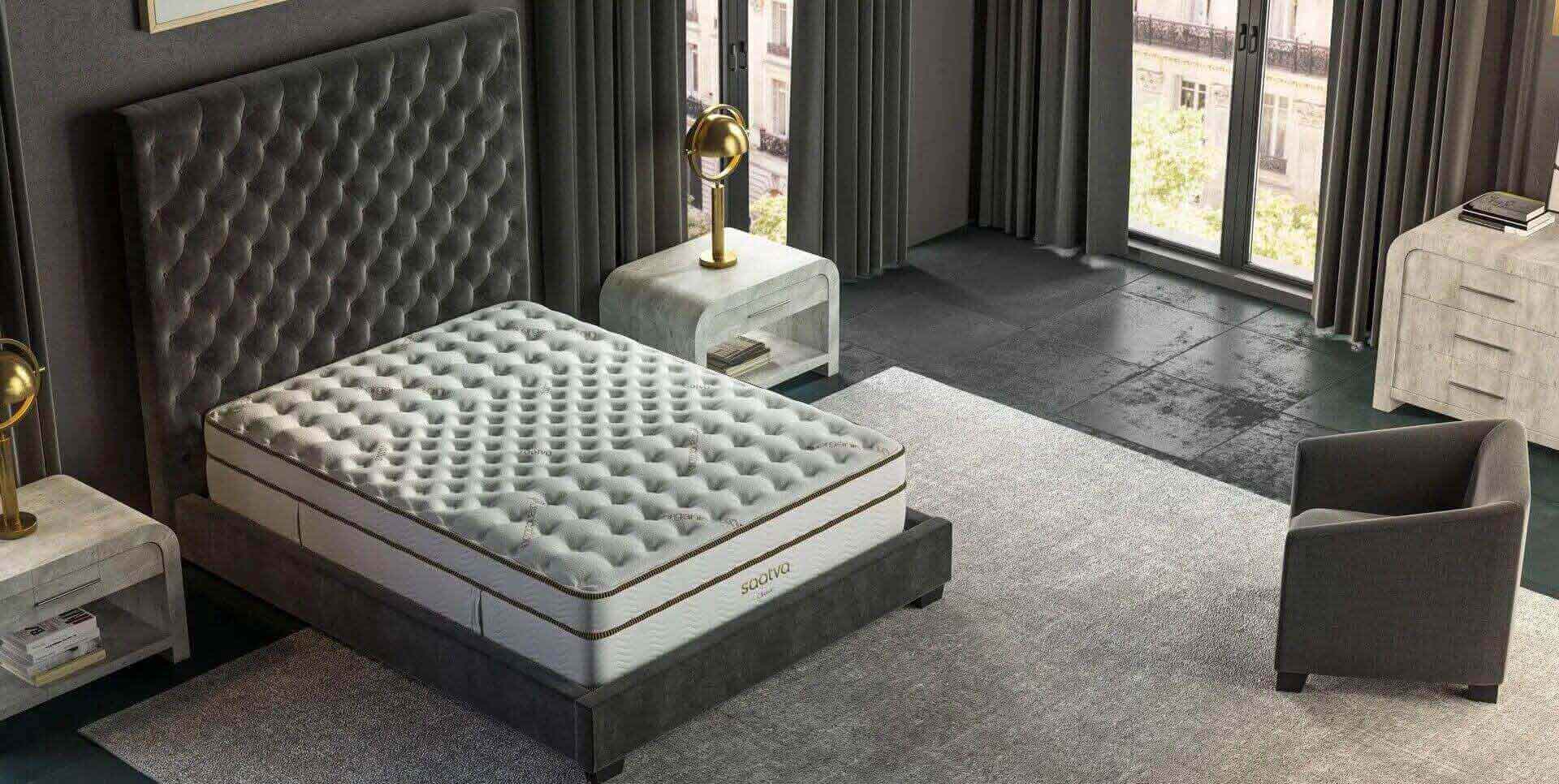 Our flagship luxury mattress is expertly engineered with coil-on-coil construction for durability, a layer of memory foam for enhanced back support, and a cushiony Euro pillow top for extra comfort.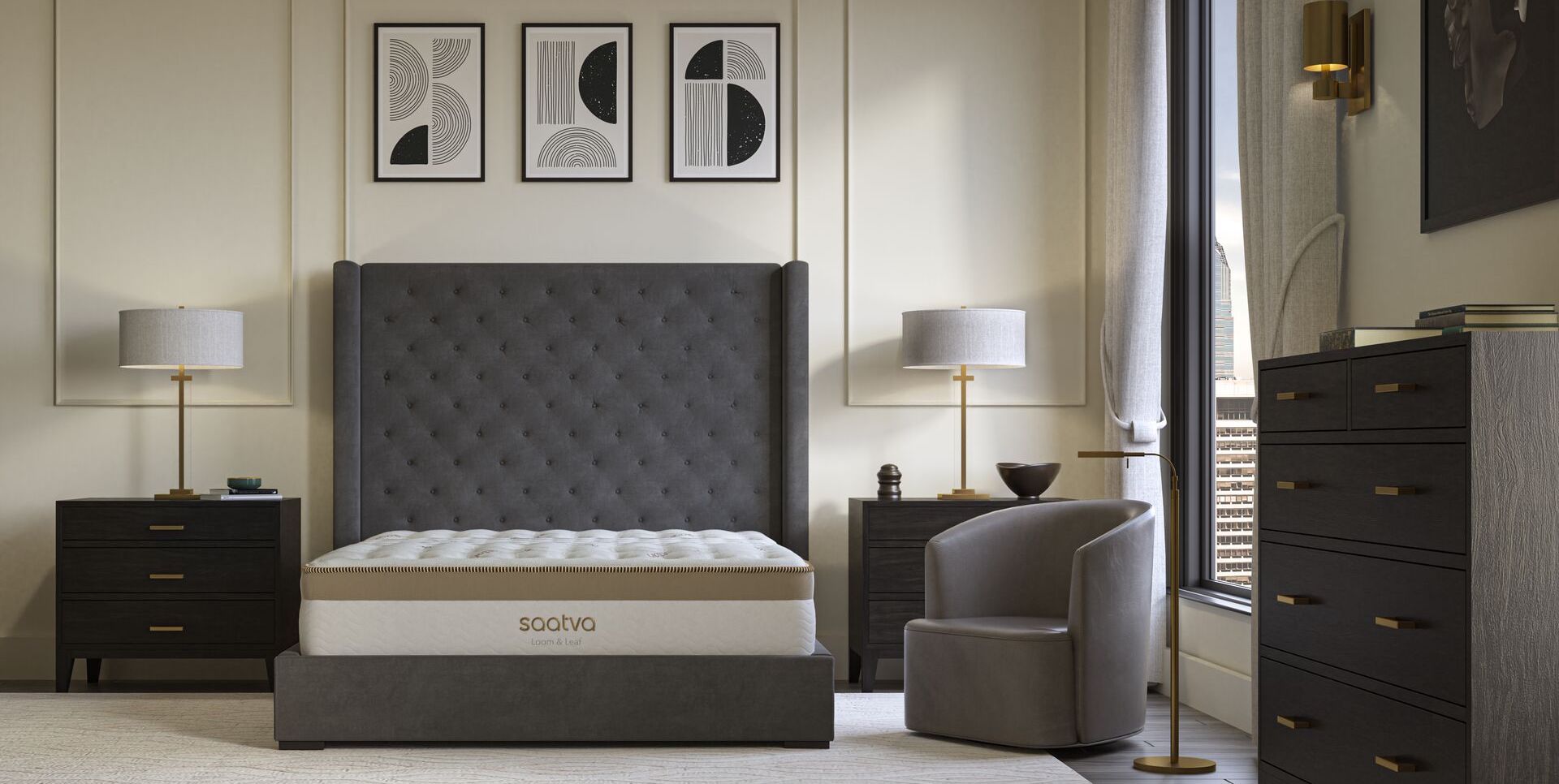 Premium memory foam, handcrafted in the U.S. with eco-friendly materials. Breathable organic cotton, cooling spinal gel, and layers of high-density support foam assure a cool, comfortable night's sleep.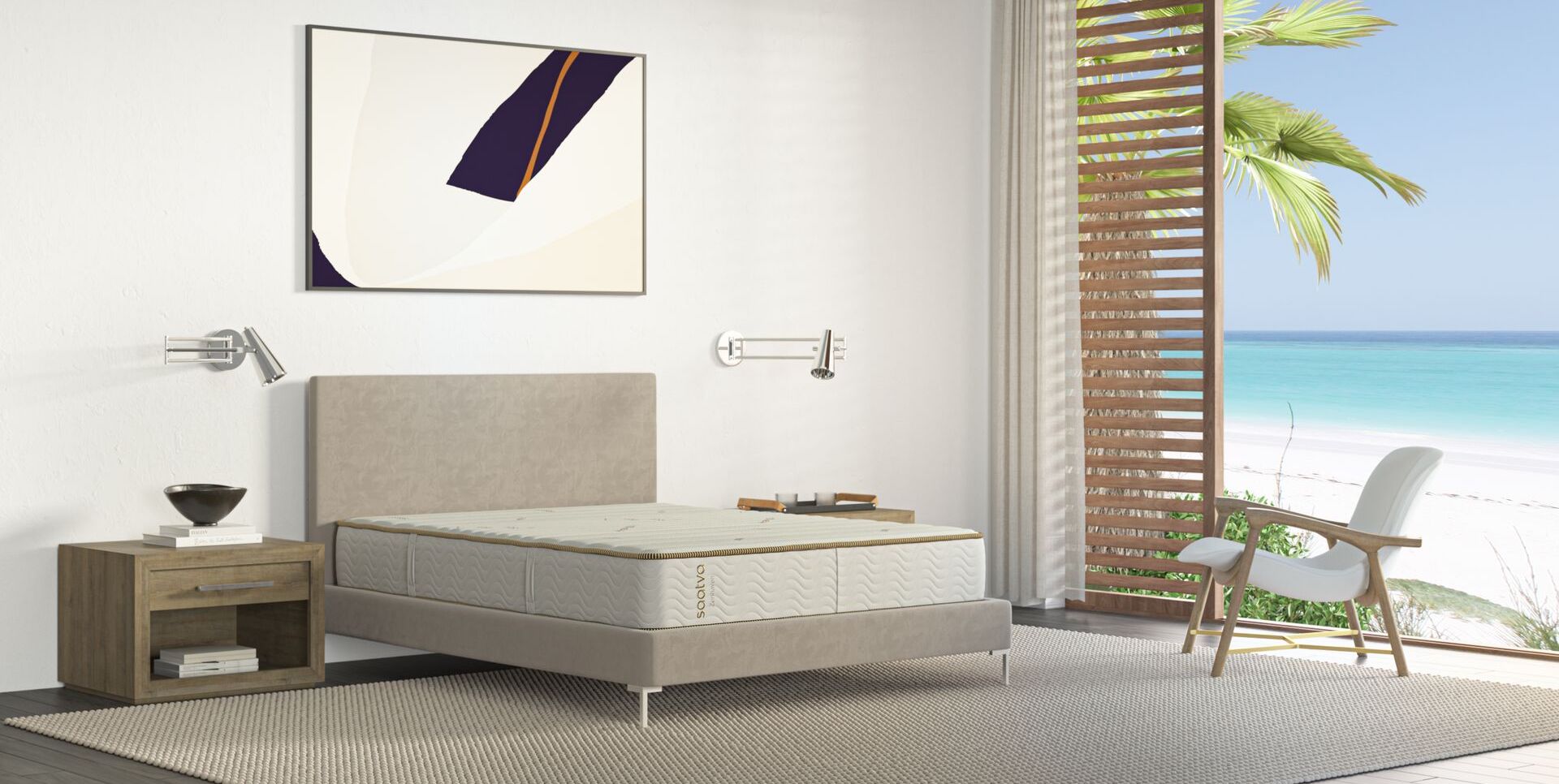 Natural latex responds to every curve for pressure-free support and responsive comfort. Natural latex is supple, resilient, and durable, for the ultimate in elevated sleep. (It's naturally hypoallergenic too.)
Find the perfect mattress for your new bookcase bed
As we've discussed, bookcase bed frames are a great way to add extra storage to a small bedroom or kids' bedroom. But you'll want to find the perfect mattress to go with your new bed frame.
Saatva offers a variety of high-quality mattresses in a range of different types, sizes, and firmness levels. Our mattresses also come with an industry-leading warranty.
Not sure which mattress is best for you? Take our mattress quiz to find the perfect mattress to match your sleeping preferences.