If you suffer from back pain, a good night's sleep can make a world of difference.
Finding the best mattress for back pain can help, of course. But not every mattress is a tonic for every sore back. Many back pain sufferers assume that they're best off sleeping on an uncomfortably hard surface, yet experts say that's not the case.
Instead, you need to choose the mattress that best supports your particular sleep style and body type.
How does back pain impact sleep?
The spine is responsible for more movement in the body than you may realize. It connects up with all your major muscles, which means that chronic back pain is something that can easily impact your daily life and sleep quality.
Many scientific studies reveal that chronic back pain often results in very poor sleep, which can ultimately make you feel even worse during your waking hours.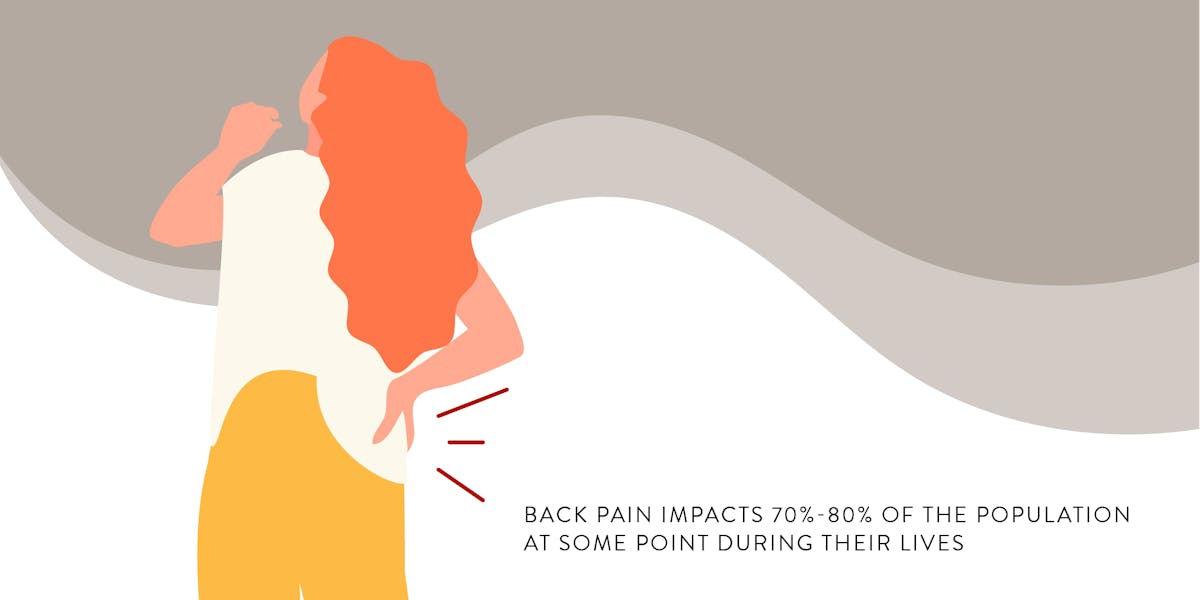 Specifically, back pain acts as an uncomfortable distraction when you're trying to fall asleep. As painful pressure points press into the mattress, it can make it challenging to find a comfortable sleeping position (cue the tossing and turning). And, if you're currently on medication for back pain, the side effects can impact sleep as well.
Back pain may even make you wake up more throughout the night. This lack of sleep will make your back feel even more painful—and this is something that can, unfortunately, take a toll on your mental health.
Can your sleep position make your back pain worse?
Did you know that different sleeping positions require different types of cushioning, contouring, and mattress firmness levels to avoid worsening back pain? Whether you're traditionally a side sleeper, back sleeper, or stomach sleeper, there's a type of mattress that will best fit your sleeping style so you can avoid back pain.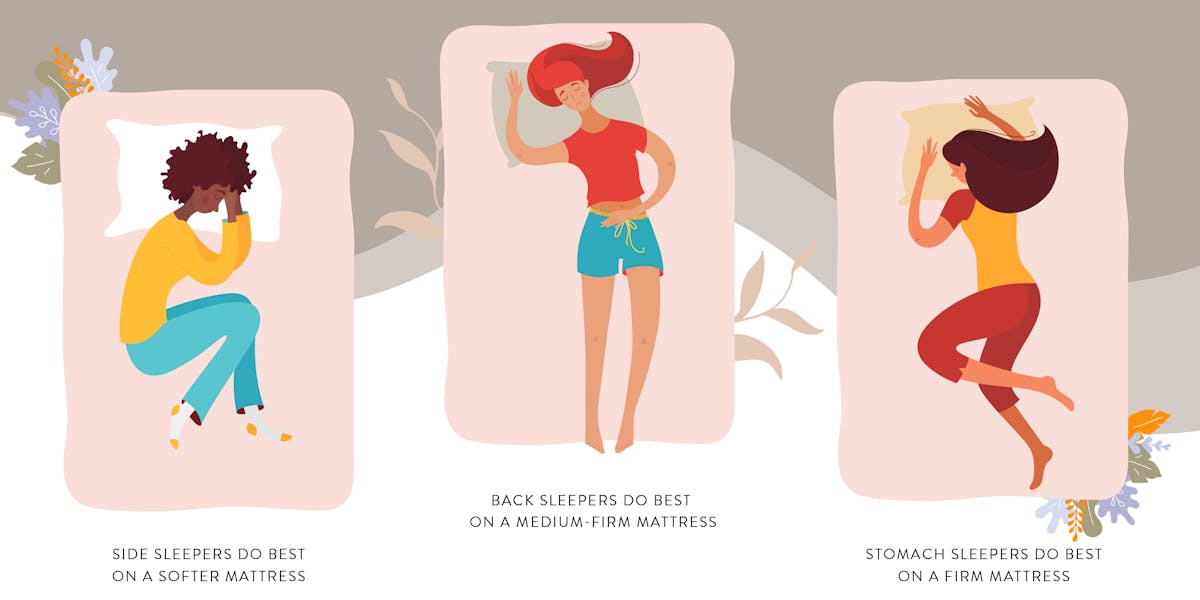 Back sleepers: Since different sleep positions need different things from a mattress, it's important to keep in mind that for back sleepers, a slightly firmer mattress instead of a soft mattress should do the trick for lower back pain relief. Although, since the back position is frequently considered the "healthiest" sleep position, you should know that you'll have more flexibility to choose a mattress than the other sleep positions. To avoid low back pain, aim for ample cushioning on top of the mattress so you can achieve good spinal alignment.
Stomach sleepers: Although most people aren't stomach sleepers (it isn't considered the most ideal position if you're looking to avoid backaches and shoulder pain), you can still achieve pressure relief with the right mattress. Overlook too-soft mattresses since sinking into that softness can put unnecessary pressure on the spine. Medium-firm to firm are the best choices for stomach sleepers, so it might be time to swap out that old mattress that you sink into for one that will better support you.
Side sleepers: The majority of people tend to be side sleepers, so you'll be in good company when choosing a mattress that best fits your sleep style. Since your hip and shoulder will need to be supported while sleeping on your side, you can avoid neck pain and backaches with a mattress that allows you to sink in a bit. Instead of a firmer mattress, a soft mattress will provide more than enough support for your natural curves.
Combination sleepers: Let's say that on a given night, you find yourself frequently switching from your back to your side to your stomach. If this sounds like you, you're a combination sleeper. For your mattress, you'll want to aim for a medium-firm mattress, preferably one that's made with latex so you can move around easily while enjoying the pressure-relieving effects.
Here are a few of Saatva's best mattresses for back pain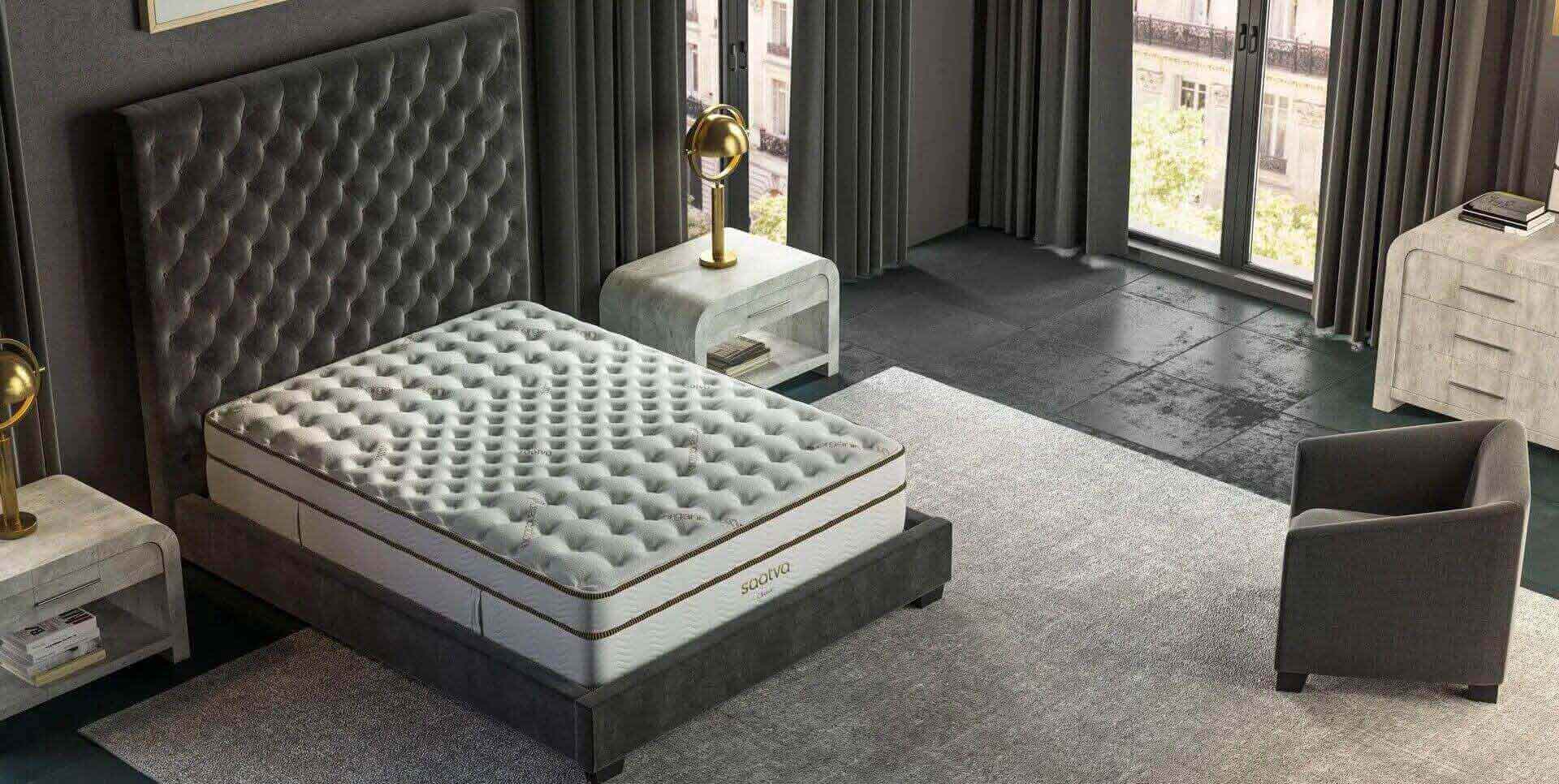 Our flagship luxury mattress is expertly engineered with coil-on-coil construction for durability, a layer of memory foam for enhanced back support, and a cushiony Euro pillow top for extra comfort.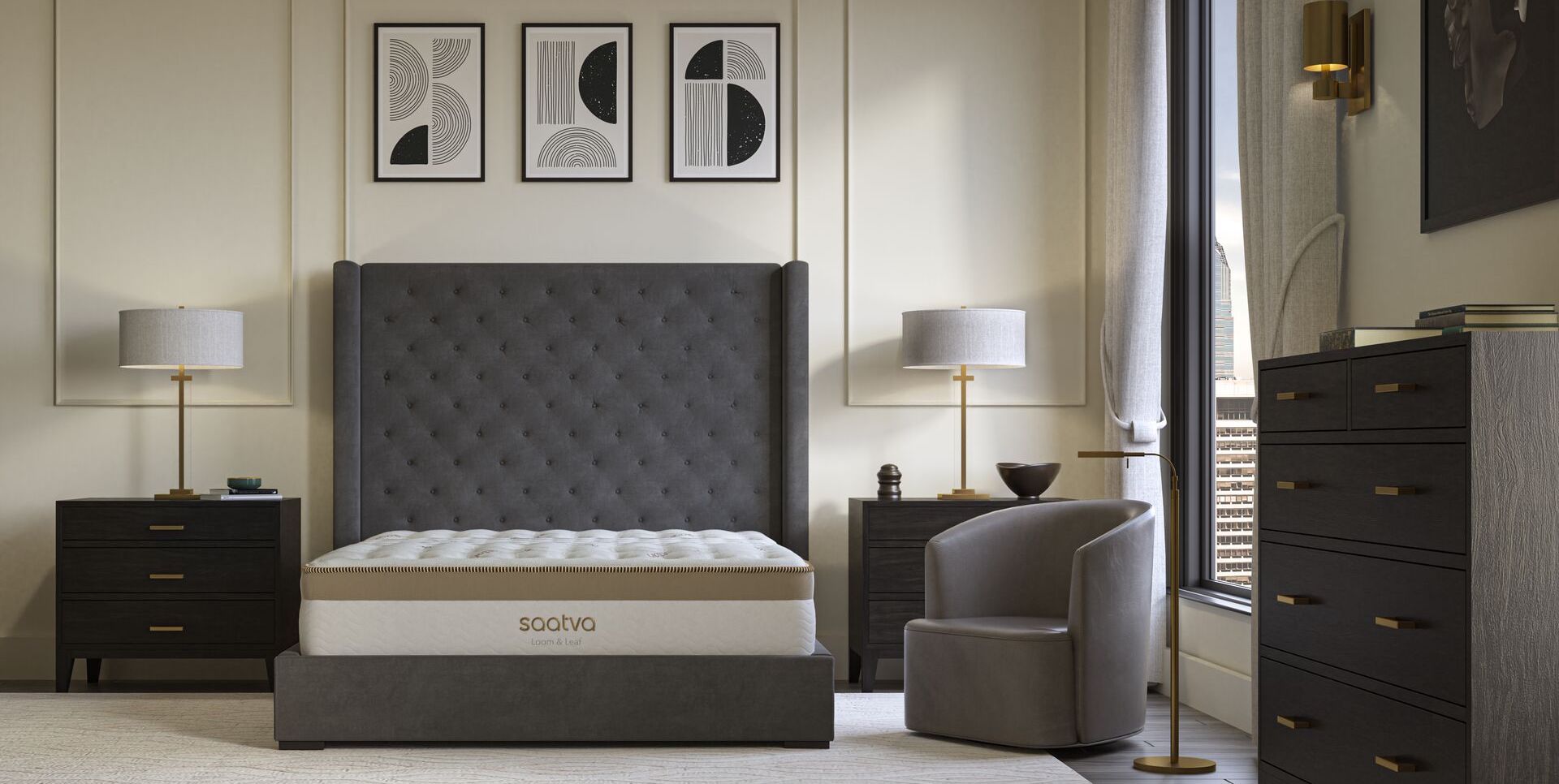 Premium memory foam, handcrafted in the U.S. with eco-friendly materials. Breathable organic cotton, cooling spinal gel, and layers of high-density support foam assure a cool, comfortable night's sleep.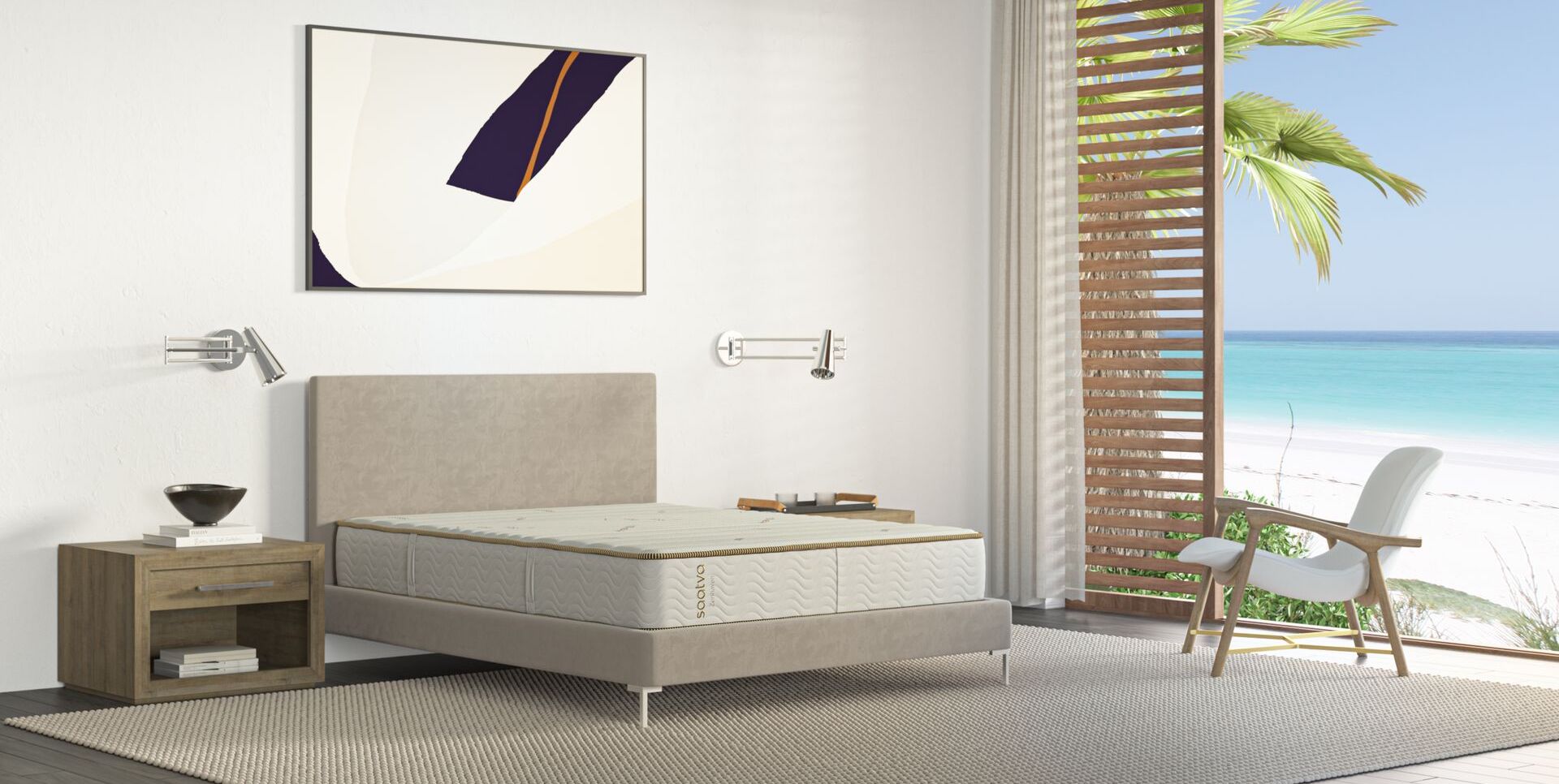 Natural latex responds to every curve for pressure-free support and responsive comfort. Natural latex is supple, resilient, and durable, for the ultimate in elevated sleep. (It's naturally hypoallergenic too.)
Which mattress types are good for back pain?
The best type of mattress to mitigate your back pain depends on a few different factors. Along with mattress firmness level, you need to consider material type as well.
One medical journal study found that when subjects switched to mattresses designed to dovetail with their preferred sleeping positions, improvements in both pain and stiffness were noticeable immediately and improved further over the 12 weeks subjects were followed.
Your sleeping position, body weight, and typical sleeping situation can also help determine the right mattress for you.
Medium-soft mattresses
A medium-soft mattress falls right in the middle—it's not too hard and not too soft. It usually falls in the 3-4 range on a firmness scale of 1-10 (with 1 being the softest and 10 being the firmest). While its comfort layer is soft to the touch, the mattress also carries plenty of support to provide pressure point relief.
Meanwhile, a plush mattress is exactly that—an ultra-soft, extra-plush mattress that's known for cushioning support. As mentioned, a medium-soft mattress falls in the middle of the softness scale, while a plush mattress is as soft as it gets.
Generally, ultra-plush mattresses aren't the best for people with back pain since they don't have enough support. Instead, focus on purchasing a medium-soft mattress, which will still have a little of that plushness you desire but will have the support you need.
As you seek out an ideal candidate for a medium-soft mattress, be sure to consider the following:
Best for lightweight stomach sleepers
A medium-soft mattress should provide just enough of the support you need while you sleep to avoid a spine that's out of alignment and neck pain—be sure not to go too soft since you'll want to not sink in too much. Choose a mattress that feels like it gives you enough support for proper alignment while providing a slightly cushioned feel.
Best for average and lightweight side sleepers
A side sleeper can sleep well on a soft mattress since it's a good surface for cradling your hips and shoulders. A medium-soft mattress will offer enough support so you don't sink in.
Best for people with hip pain
If you deal with hip pain, be sure to buy a medium-soft mattress that's cushioned enough to conform to your body's shape but firm enough to support your hips. (Here's how to sleep better with osteoporosis.)
Medium mattresses
A medium mattress is exactly what you think it is—it's a medium-level firmness, falling at a true 5 on a firmness scale of 1 to 10.
As you search for an ideal medium mattress that can provide pressure point relief, there are some key characteristics you can weigh:
Great for couples who like different sleeping positions
Are you a combination sleeper? Is your partner also a combination sleeper? Then a medium mattress might be just the thing for you since it will be able to more than adequately support your varied sleeping positions throughout the night, resulting in a good night's rest and less back pain.
Side sleepers
A medium mattress also has that perfect level of cushion for side sleepers who need some support but also need to sink in slightly so their hips and shoulders can be hugged comfortably. That's something that can translate to less pain in the morning.
Medium-firm mattresses
A medium-firm mattress usually falls anywhere from 5-7 on a firmness scale of 1-10. This type of mattress might be right for you if you fall into any of these categories:
Best for back sleepers, side sleepers, and combination sleepers
A medium-firm mattress is a good pick for a variety of sleep positions. It provides enough comfort to back sleepers while still keeping the spine in neutral alignment, and it's also cushiony enough under hips and shoulders for side sleepers. A medium-firm mattress is also ideal for combination sleepers who switch from back to side during the night due to its ability to cradle hips and shoulders while keeping the spine in neutral alignment.
Ideal for average and lightweight people
A medium-firm mattress is an excellent choice for anyone of light or average weight. If you weigh between 120 and 230 pounds, then a medium-firm mattress should give you the right amount of cushioning and support to get a good night's sleep.
Good for couples who can't agree on mattress firmness
Do you like your mattress to feel softer, while your partner prefers it firmer? If you can't agree on a mattress firmness level, then consider a medium-firm mattress. It offers a nice middle ground and should satisfy both of you.
Firm mattresses
A firm mattress will usually fall between a 7-8 on the firmness scale and features support layers and only thin comfort layers.
If a firm mattress sounds appealing to you, there are some characteristics you should know about:
Great for back sleepers
Sleeping on your back is already good for back pain, and a firm mattress can help further alleviate a backache. If you have an old mattress and regularly deal with back pain, a fresh, new, firm mattress may make those aches and pains disappear.
Excellent for stomach sleepers
A firm mattress is great for those who prefer to sleep on their stomachs since a firm surface will allow your body to have good alignment while lying face-down. Too soft, and the mattress will pull down your spine, something that can lead to exaggerated spine curvature.
Best for heavier people
If you have a larger body and weigh over 230 pounds, a firm mattress can help you sleep even better. Your spine will be aligned, and you'll be able to prevent back pain in the process.
Hybrid mattresses
A hybrid mattress offers the best of both worlds: cushioning and support. It's a mattress that contains top layers of foam (which can include a gel memory foam layer) on top of pocketed coils. These are all things that can greatly aid in back and joint pain relief.
Here are a couple of things to think about if you'd pondering a hybrid mattress:
Best for side sleepers
You should know that hybrid mattresses cater to two major pressure points: the shoulders and the hips. These are the areas that receive the most compression throughout the night as you sleep on your side—which is why the soft, cushioned surface of a hybrid mattress is ideal for cradling your body correctly. You'll experience great pressure relief from the foam, and the innerspring base will additionally support your body.
Great for hot sleepers
Thanks to cooling materials within a hybrid mattress, such as gel or graphite copper materials that are known to be low heat conductors, your body heat won't transfer as much into the mattress while you sleep. This will result in a cooler night's rest.
Memory foam mattresses
A memory foam mattress is made from viscoelastic foam, a type of high-density polyurethane foam. Since memory foam naturally molds itself to one's body and supplies contouring, it can foster excellent spinal alignment and offer a pain-free sleeping experience.
Here are some pros if you're considering purchasing a memory foam mattress:
Great for people with allergies
If you suffer from allergies caused by dust, you'll be happy to know that since a memory foam mattress doesn't contain a lot of areas where dust mites can accumulate, you'll deal with less dust as you try to sleep. Memory foam is also considered to be a hypoallergenic material.
Good for couples
No noisy or squeaky springs here! Instead, a memory foam mattress is made from foam materials, which can be ideal for sleeping couples. The foam will lessen or even cease the feeling of motion transfer so you won't disturb your partner if you toss and turn. This is also known as motion isolation.
Watch this video for more advice on choosing the best mattress for back pain:
What about body weight?
While back pain impacts 70%-80% of the population at some point during their lives, a 2010 analysis published in the American Journal of Epidemiology found that larger-bodied people are at a higher risk.
If you have a bigger body, choose a medium-firm or firm mattress to help keep your spine aligned while you sleep. Also consider adding a
latex mattress topper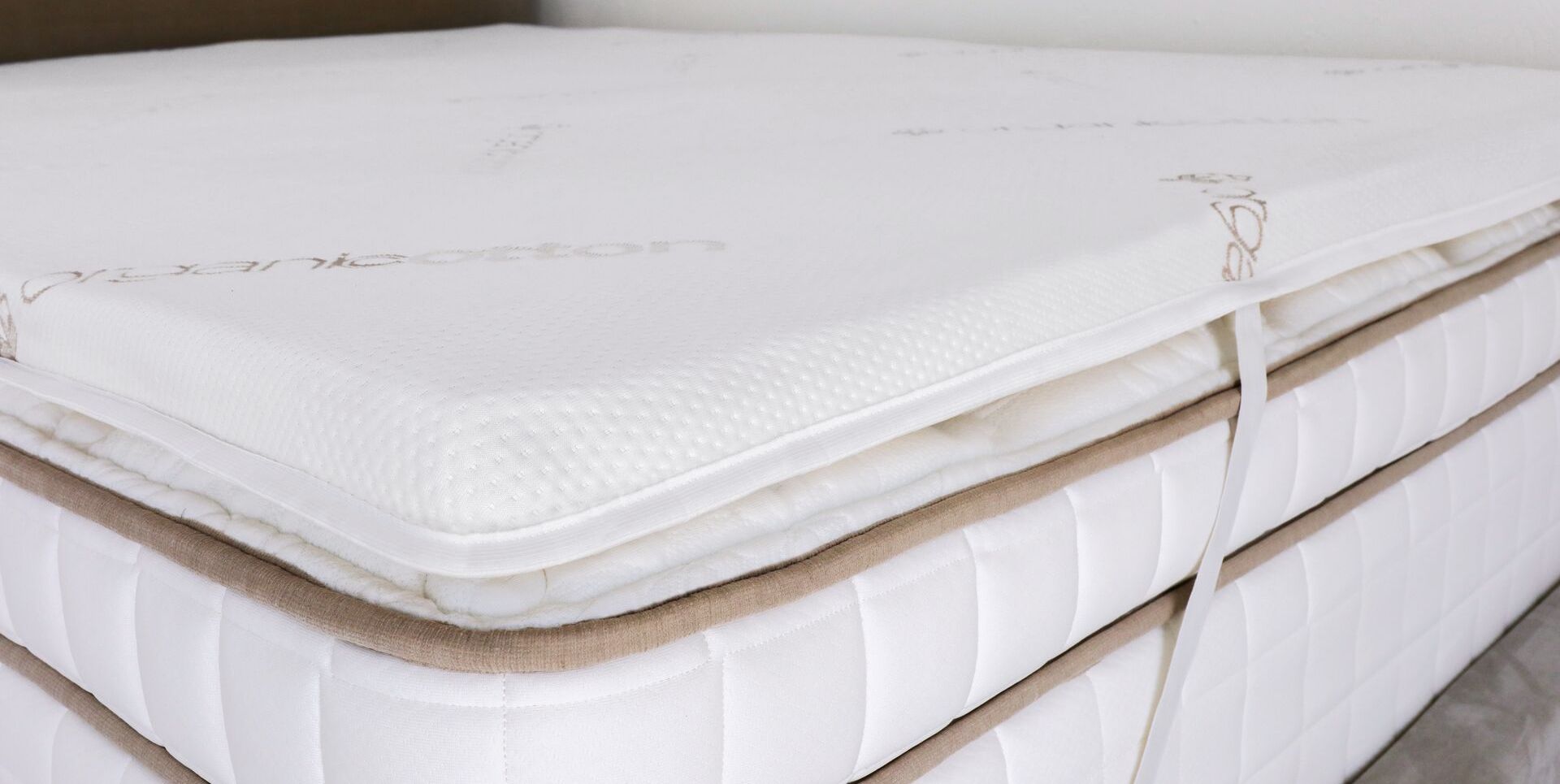 Natural Latex Topper
Breathable comfort & durable, responsive support
to your current mattress for extra comfort and support, or choosing a
heavy-duty mattress
Saatva HD
The first luxury hybrid innerspring for bigger bodies
, which is specially made to provide proper support for bigger bodies.
Hot sleepers and back pain
If you tend to run hot when you sleep (and here's why some people do), you may want to consider materials that will keep you cooler. That's because overheated sleepers tend to toss and turn, exacerbating their back pain in the process.
There are a few options out there for hot sleepers—natural latex mattresses incorporate channels to improve airflow and avoid trapping heat, and many memory foam mattresses feature special gels or heat-wicking materials to keep you cool for better sleep.
Learn more about the key differences between latex and memory foam to help you decide which material is right for you.
Help soothe your back pain with these mattress toppers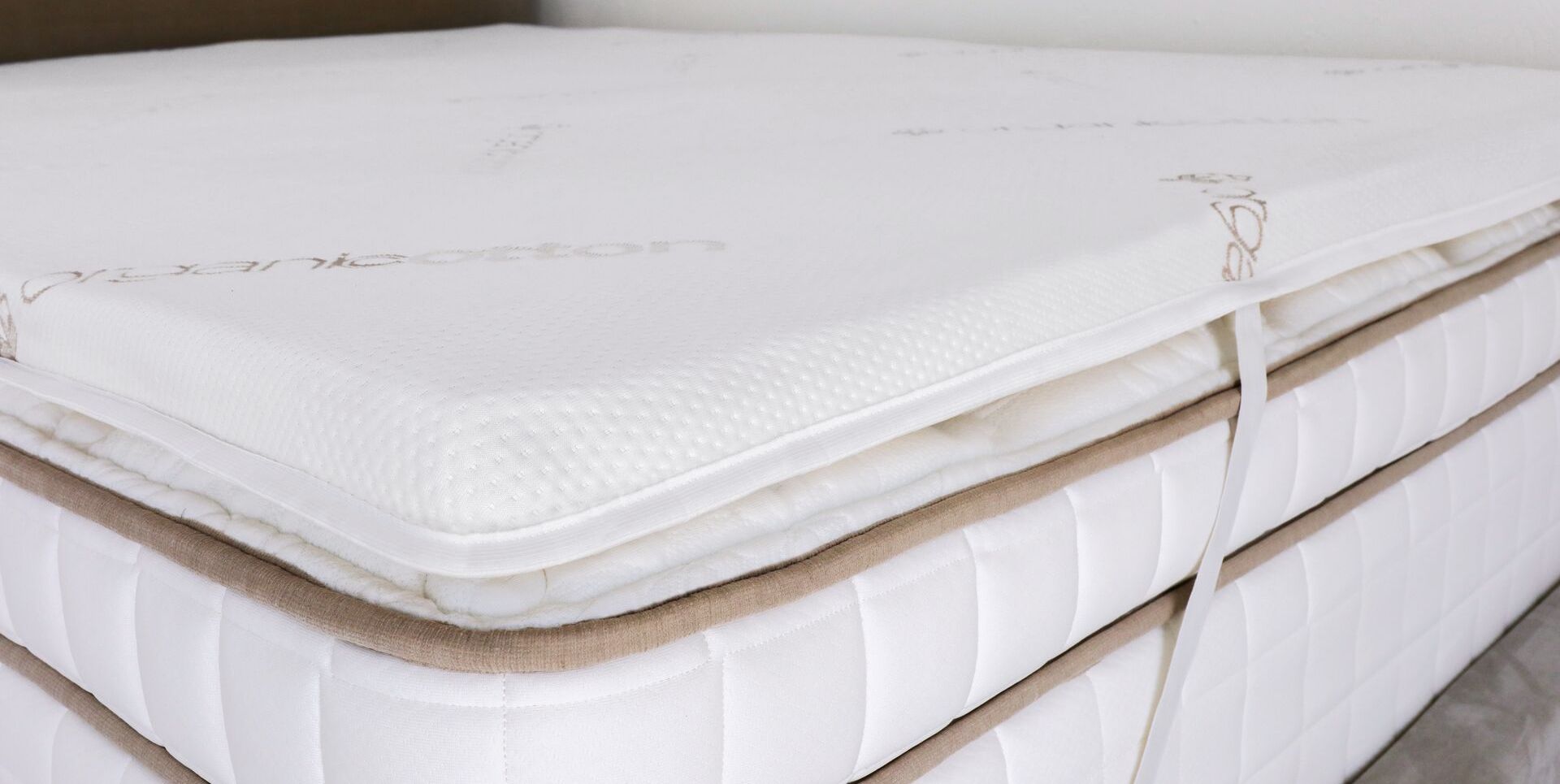 This breathable, comfortable, and durable topper instantly adds a layer of responsive softness and unmatched pressure-point relief.
The latest in high-tech cooling. The contouring support of memory foam, plus the advanced heat-dissipating properties of graphite.
Thoughtfully designed to relieve pressure points and offer the responsive feel of an innerspring. It gives you the best of both worlds with a hybrid of micro-coils and gel-infused comfort foam.
On a budget? Try a mattress topper
It can certainly be an investment to purchase a new mattress. A new supportive mattress is always a good goal to work toward. But if you're mindful of your budget, you may want to consider a mattress topper to temporarily lessen your back pain instead of trying to buy one of the top mattresses on the market.
A mattress topper lies on top of a mattress and changes the way a mattress feels. It acts as a support layer and provides additional comfort as well. If you feel that your mattress is addressing your needs, but you could use a little more back-pain relief, a topper is a great option. It'll change the feel of your mattress without you having to replace the entire thing.
Toppers can also make a plush mattress more supportive or offer more of a firm feel. Or, you can use a plush topper to make a firmer mattress feel even softer.
FAQs
Is a harder or softer mattress better for back pain?
Neither a hard nor soft mattress is better for back pain. A too-firm mattress can feel uncomfortable and a too-soft mattress may lack support.
What mattress type is best for back pain?
For back pain, it's best to opt for a medium-firm mattress. This provides good comfort, support, and pressure point relief.
Find the best mattress for you
Although some mattresses are geared toward certain sleep positions and body types, ultimately, the best new mattress for you comes down to your personal preferences around comfort, price, and feel.
If you're ready to purchase a new mattress that will lessen your back pain and encourage better sleep, Saatva is a wonderful choice for people who experience back pain. You can buy with confidence, knowing there's a 365-night sleep trial period and an industry-leading warranty. Consider trying a Saatva mattress for yourself to see if it's a good fit for you.
Next, learn all about lumbar support, which is important in a mattress especially if you have back pain.